First Baptist Church     503 Gjoa St    Petersburg, Alaska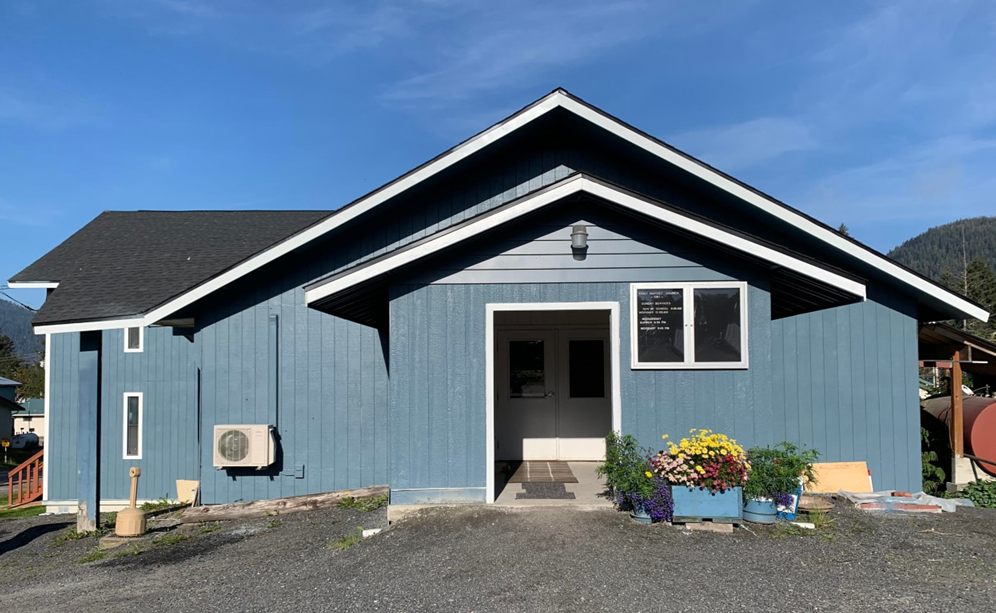 CHURCH

HISTORY
FBC was founded in 1970 as a Mission Project of the North American Mission Board, of the Southern Baptist Convention.  Having begun as a Mission, FBC continues to have a heart for Missions.
We are called to Spread God's Love and Give Grace through Loving, Learning, Living and Leading people, realizing God's vision for FBC to be a  Christ Centered Community of believers committed to helping every person to connect with Jesus, to grow as a follower of Jesus, and to enjoy the family of God!
LEADERSHIP
The church is served by Lee Corrao, our pastor, Craig Dunbar, our Associate Pastor, and our Council of Deacons: Mike Cottrell, Tim Wilkinson, and Kurt Wohlhueter– Along with our Board of Trustees: Ron Loesch, Nathan Midkiff and Patti Steele, We operate with a Congregational style of Governance, so we all work together toward understanding and implementing what we hear God telling us to do.
CHURCH BODY
It is the heart of FBC to embrace a cooperative and unified spirit.  None of us is perfect, everyone of us needs the grace, forgiveness and salvation of God.  With this in mind, we strive to be a welcoming and grace giving community of believers, with arms open wide to anyone and everyone who comes our way.
Earl Midkiff, serves as our  Emeritus Pastor, and valued mentor
to our current Pastor, Lee Corrao.   The church demonstrates a caring and welcoming spirit.
On Sunday mornings we offer Bible classes for all ages (9:45am), Worship at 11:00, and Youth Group (6pm).
Wednesdays we host a Dinner Fellowship (6:00-6:45), offering Dine-in or Take-out, and LIFE Group from 7:00 -8:00.
Thursdays at 6:00pm FBC hosts a Celebrate Recovery Group, a faith based ministry for helping those with addictions and life controlling issues.
Women's Fellowship meets on Tuesdays at the church.
Men's Fellowship meets every-other Saturday for Breakfast, fellowship, and the Word (7am), and once each month we meet for an Evening Men's Event
FACILITIES
The 5,000 square foot tri-level church building houses a sanctuary with seating for 80 and a baptismal, a foyer, the pastor's office, kitchen, multi-purpose hall, men's and women's restrooms,  and classroom for the Children and Youth Bible Classes. The fellowship hall and classrooms are on the lowest level, the entrance and pastor's office are on the street level, and the sanctuary is on the upper level. There are chair lifts for the disabled.
 WORSHIP
Our worship service focuses on preaching the Word of God. Music includes a blend of traditional and contemporary songs & Hymns (Hymn Books are available for those desiring one).  We seek to magnify Jesus Christ in every aspect of the service. Songs are projected on the screen, which may be used during messages. Messages are recorded and available on the website fbcpetersburg.com. Lee tends to use the New King James Version, but we do not specifically endorse any one translation.
CHRISTIAN EDUCATION
Bible Classes are offered for all ages in the following classes:
Pre School – 1st Grade

2nd – 5th Grade

Youth

Adults
SMALL GROUPS
Small Group Ministry is offered seasonally through home group prayer & study groups, as well as small group studies that meet online.
MISSIONS AND OUTREACH
FBC offers an Outreach Fellowship Dinner on Wednesday nights at 6:00pm – everyone is welcome!  We also distribute food and other household goods to those with a need.  sandwich board sign downtown advertises the Wednesday meal. People can stay for LIFE Group (7:00pm), or leave after eating.
The church supports missionaries through the Cooperative Program and three major offerings received each year: Valeria Sherard State Mission Offering, the Annie Armstrong Easter Offering for North American Missions, and the Lottie Moon Christmas Offering for International Missions. The church also participates in Operation Christmas Child each year and provided about 100 gift boxes in 2021.
CHURCH SUMMARY
First Baptist Church of Petersburg, Alaska is an evangelical church that believes in the inerrancy of the Bible and salvation by grace through faith in Jesus Christ alone. We are missions-minded, believing we should seek to present the gospel in Petersburg, in neighboring communities, and throughout the world!  We are an autonomous church affiliated with the Southern Baptist Convention, Alaska Baptist Resource Network, and Tongass Baptist Association to help us better fulfill the Great Commission.
Matthew 28:19-20 "Go therefore and make disciples of all the nations, baptizing them in the name of the Father and of the Son and of the Holy Spirit, teaching them to observe all things that I have commanded you; and lo, I am with you always, even to the end of the age."